Introducing Brett Matson – An interview with Sitback's Technical Director
One of the best things about working in the digital space is that our world is constantly evolving. Enhancements in technology redefine what consumers expect from the companies that they engage with day to day, and we are in the privileged position of being able to help guide our clients through these periods of transformation.
In order to provide greater scale for our clients, and provide better support and growth opportunities for our people, we have recently taken the opportunity to review the structure of our software development team. It is as a result of this change than I am incredibly pleased to be able to introduce you to Brett Matson, our new Technical Director.
Brett's achievements to date span many impressive arenas; from humble beginnings as a software developer, to leading an enterprise search company to become a Gartner Magic Quadrant visionary with multiple awards and, more recently, developing machine learning algorithms for natural language processing. Brett now brings this impressive depth of knowledge and experience to Sitback's clients and we couldn't be more happy about it!
I sat down with Brett for a conversation about his background, what benefits he brings for Sitback's clients, and a glimpse at his vision for the future of tech and all things digital.
Chris: Tell us a bit about yourself prior to joining Sitback.
Brett: Most recently, I launched a solopreneur start-up offering a new kind of recommendation engine called Engaging Things. After designing and developing the platform, I signed Acclaim Magazine as a launch customer who used it to provide recommendations for their hip-hop articles. Ultimately, I missed working with people so I put the project on hold when the opportunity to join Sitback came up.
Previously, I was the Managing Director at Funnelback, a CSIRO spin-off offering site search and enterprise search solutions. The company grew from a small Canberra-based start-up to having teams and customers in Australia, the UK and US, and was ultimately recognised by Gartner's Magic Quadrant as a visionary.
Going back to the start, I did my ANU engineering honours thesis in online mapping and started my career as a software developer at the Australian Bureau of Statistics developing systems to process Census data.
Chris: What is your favourite part of working in tech?
Brett: The scope for creativity. There are so many ways to solve a problem, but from the client's perspective there are good ways and better ways. Finding the solution that optimally and holistically fits the client's unique situation makes for a satisfying day's work.
Chris: What's the most rewarding part of your job?
Brett: Celebrating with the team after achieving a good result for a client.
Chris: What is the best project you've worked on in your career?
Brett: Building the Engaging Things platform was satisfying. I solved a lot of complex problems, like building a system to automatically find images of a person or thing, which then automatically checked the license terms and automatically cropped the image around the face. It was also able to disambiguate things using machine-learning word vectors, like for example, to determine that an article is referring to Chris Evans the British TV presenter, not the Chris Evans that's an American Actor or the one that's an Australian politician. 
Chris: Tell us some of the biggest clients / projects you've worked on?
Brett: At Funnelback we implemented site search for many diverse clients, like Cambridge University, Southwest Airlines, Rolls Royce, Dyson, Westpac, Santander, the British Medical Journal, Foxtel, and University of Southern California.
Chris: Have you won any awards? If so, what for?
Brett: I haven't won awards personally, but we won awards for the work we did at Funnelback. For example,
Editor's Choice award for best enterprise search engine from Network Computing magazine
Australian Capital Territory Exporter Award for ICT.
Finalist in the Australian Exporter Award for ICT.
Funnelback named 'Rising Star' in MIS Strategic 100 Annual Edition.
Finalist in Intermedium's Leaping Frog award for achieving 1,894% growth in the Australian Federal Government ICT Sector in the past 3 years.
Named 'Visionary' in Gartner Magic Quadrant for Insight Engines
Chris: What would you consider to be your "core values" and how do they map to your professional life?
Brett: Integrity, respect, and responsibility, which just means treating teammates and clients in the way I like to be treated, and taking ownership seriously. If I make commitments, I'll do everything I can to stick to them.
Chris: Outside of your career, what are your hobbies and interests?
Brett: Spending time with my family, learning new tech, and trying new things. Several years ago I set myself a bucket-list goal of recording an album, despite my lack of musical skills, and managed to get it done with the help of some singers-for-hire. It didn't get me into the rock and roll hall of fame, but it was an album.
Chris: As a leader in the space, how do you support internal teams to ensure they deliver their best work?
Brett: Many ways, but the most important is that I avoid the pigeonholing that happens in larger corporates. Early in my career, I was encouraged to make decisions and contribute in ways that were outside of my role description. I made some mistakes, but learned a lot, which allowed me to grow in ways that couldn't have happened otherwise. Most people are capable of much more than their current role description and they just need an opportunity to try.  
Chris: You've worked for some big companies through your career. What attracted you to Sitback?
Brett: Mostly it was the people and culture, which I knew from Sitback's Great Place To Work awards and also from what I'd heard first hand. Also, I'd always been involved in product businesses, which meant only ever using our product in client projects. On. Every. Single. Client. Project. Ever. I liked the idea of branching out, identifying and bringing together best-of-breed products to build innovative new solutions that produce great outcomes for the client.
Chris: What are you looking forward to the most about working at Sitback?
Brett: Talking to people again has been a big plus! Also learning new technologies and introducing some of my past learnings to help Sitback and its clients thrive.
Chris: What is your opinion on Sitback's aspirations around sustainability and doing business 'for purpose'?
Brett: Most people find the climate situation alarming and want to help, but it's hard to know how to make a difference as an individual. This makes it critical that organisations contribute as much as they can and encourage their people to be part of it. I love that Sitback's leadership genuinely cares about making the world more liveable, and they lead by example in a way that will hopefully encourage more companies doing the same.
Chris: Where do you think you will have the biggest impact for Sitback's existing clients? Why should they care that you're now part of the team?
Brett: My perception so far is that Sitback is highly customer focused, which is reflected in the positive results of its net promoter score surveys. I hope that I'll bring a fresh perspective and creativity to solutions, a product mindset, and a wealth of search experience, as well as being a friendly point of contact that's always happy to chat.
Chris: What are some of the biggest challenges you see facing businesses right now, that more emphasis on digital/tech/UX might help solve?
Brett: I'm surprised that so much large-scale digital transformation is still happening in 2022 when so many of the technologies have been around for decades, but there's still a lot to be done. I see Sitback well-positioned to solve one of the big challenges in digital transformation, which is to take a pragmatic approach to breaking down large problems and solving each part with UX at centre of each decision. Sitback's strength is also as a trusted business advisor to clients as they formulate their requirements, assess different options, and navigate through a complex transformation and vendor landscape.
Chris: What industries do you see lagging behind when it comes to user experiences, and which industries are leading the way? What makes the good, good – and the bad, bad?
Brett: Higher education lagged for a long time due to a lack of strong competition, complex digital environments, and constrained budgets. In recent years though, successful universities have evolved to compete on the strength of their user experiences to attract and retain students. Good user experiences use data-led design to enable prospective students to easily discover the relevant things a university has to offer, and continues to support them as they journey through the process of enrolling, studying, and beyond graduation.
The finance sector has been doing a lot of interesting work in user experience, like Westpac's work with intelligent content, which aims to make content more reusable, discoverable, automated, flexible, high quality, and more. 
Chris: What can the public sector learn from the private sector when it comes to digital user experiences?
Brett: Many government organisations have become sophisticated in the way they create digital experiences using well-established platforms like eCommerce, search-driven content, and online maps. Next we'll see the public sector employ more website personalisation to make it easier for citizens to find relevant information and services, and they'll make better use of digital asset management, content distribution, and discovery services to ensure the integrity, currency and accuracy of content and assets syndicated across many agency websites.
Chris: Where do you see technology heading over the next 5-10 years? Will there be any paradigm shifts in the work that you're doing?
Brett: Soon we'll all be adjusting to living and working inside Mark Zuckerberg's Metaverse. Just kidding, I see consolidation, integration, and commoditisation of technologies as being the main factors that will continue to impact the way we work. Tools that we see as premium now will become more accessible, more integrated, more out-of-the-box, and more affordable, which will make excellent digital experiences more ubiquitous. 
Additionally, a recent eye opener for me was the DALLE-2 machine learning model that can create realistic images from natural language descriptions. It's no longer a stretch to believe there'll soon be machine learning systems that can create 3D models, animate them, and automatically construct entire immersive experiences on-the-fly that continually evolve and grow more sophisticated. Wait… maybe we will all be living in the Metaverse.
In the mean time, here's an image that DALLE-2 created for me in response to the suggestion "High quality photo of Darth Vader as a party DJ".Chris: Do you have any side projects?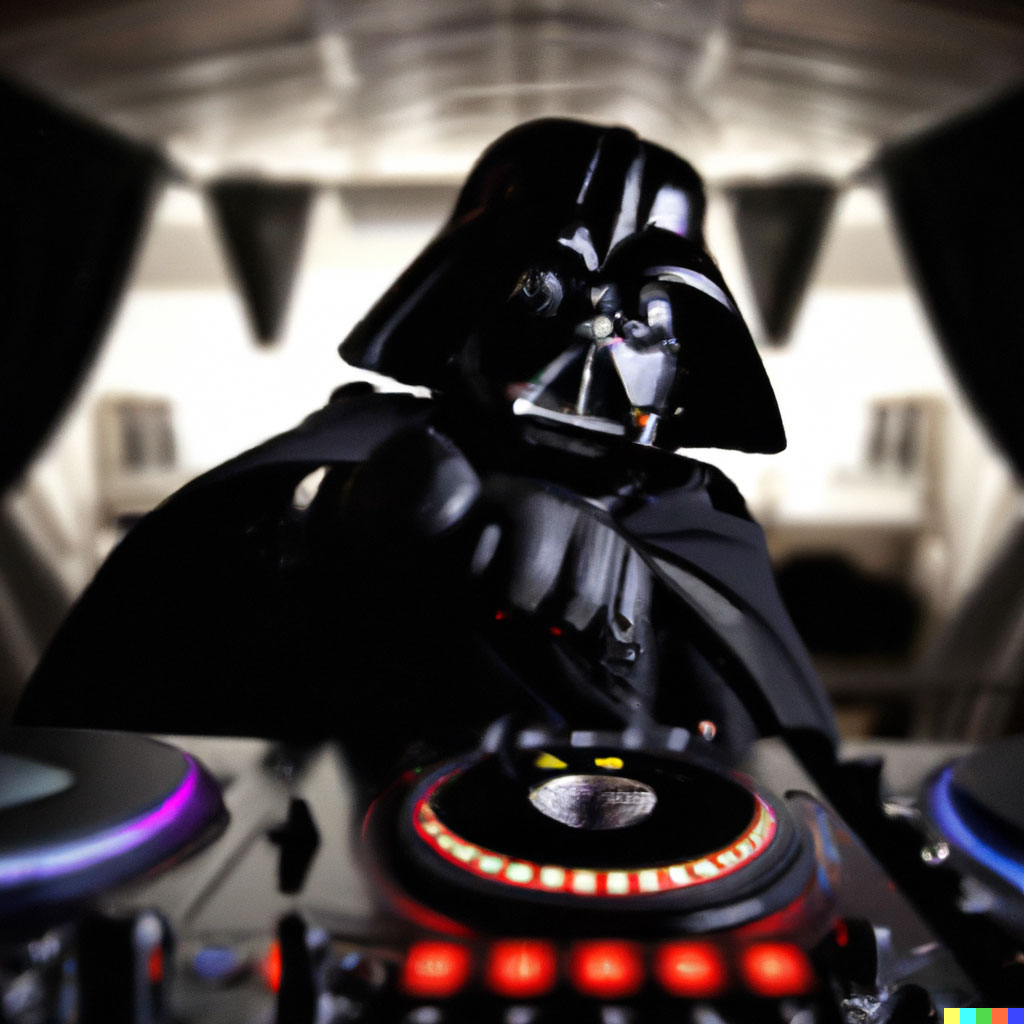 I'm 100% focused on Sitback now. In the future, I'd like to do side projects with the Sitback team to get more capacity and skills around them, which would also have the benefit of making them not side projects 🙂
Chris: We often host 'world food day' lunches, where we each bring in a dish to share with the team inspired by our family/cultural background. What would you bring in and why?
Brett: I was born in Adelaide, so… a Barossa shiraz? Is that allowed? I need to re-read Sitback's alcohol policy.
Chris: What would be your top 3 tracks for our office stereo and why?
Brett: I've recently discovered Silverchair, so Do You Feel The Same, Emotion Sickness, and Too Much of Not Enough.
Chris: Thanks for taking the time to let us get to know a bit more about you – it's great to have you on board!
If you want to pick Brett's brains, get in touch and we'll line up a chat, or you can connect with Brett on LinkedIn.