Introducing Paul Taylor – an interview with Sitback's new XD Director
The Experience Design team at Sitback is at the beginning of an exciting new period of development. While already well respected amongst clients and partners for the quality of work and depth of research, this new chapter in the company's evolution will see appreciable growth, both in terms of capacity, and also the range of value-based services on offer.
Spearheading this change is our new Experience Design Director, Paul Taylor. I sat down with Paul for a conversation about his background, what benefits he brings for Sitback's clients, and a glimpse at his vision for the future of UX and experience design.
Chris: Hey Paul, it's great to be speaking with you today. Let's start at the beginning. Tell us a bit about your background; how long have you been working in experience design (XD) and how did you get started?
Paul: I've been working in experience design for around 19 years now. I started off client-side as a graduate at Aviva, a big financial services company in the UK. They trained me in various aspects of what today we would call digital product design and development.
My UX journey started when we were running data analytics on our insurance quote process, making small changes and checking the results – basically doing optimisation and A/B testing before we really knew what we were doing properly! From there we did some large scale redesigns and dramatically improved performance – our bosses were super happy! It was a really good training ground.
Before starting that grad job I'd been backpacking and fell in love with Australia. So the plan was always to get some experience and come back. I arrived here with a bag full of clothes and a laptop under my arm and took it from there. That was 15 years ago!
Since then I've been leading experience design and innovation teams for big global players like Deloitte Digital, Sapient, AKQA, VMLY&R – and a few independents along the way.
Chris: What are some of the things you are most proud to have worked on in your career?
Paul: When you work in experience design, I think you can genuinely say you are making the world a better place – for customers, clients and the team's you work with. I'm always looking for that win-win where we can make customers' lives better and unlock new value for clients. I like to think I have done that through:
Transforming the way people join the armed forces
Reimagining how tradies manage their day
Creating digital products to increase financial wellbeing
Inventing wayfinding systems that help citizens navigate government services
Design and development of mobile apps that enhance the car buying experience
Creating great cultures for a diverse group of researchers, strategists, designers and clients to grow their careers and have a bit of fun along the way.
Chris: You've worked for some large companies throughout your career. What attracted you to Sitback?
Paul: Sitback are all about exceptional experiences – and that really came through in the interview process with everyone I met.
A lot of companies talk about being customer-centric and purpose-driven but aren't able to demonstrate how that drives the decisions they make in the business each day. Sitback were able to give real examples of how their purpose informs the choices they make – from not working with companies that don't align with their values, to choosing to reinvest the money saved from not having an office through the pandemic into improving the employee experience via training and development. Seeing a company truly living its purpose made it really easy to accept the role.
The team also has a really strong tech capability so I'm looking forward to partnering up with Imon (CTO) and his team to deliver on some of the experiences that the XD team and I will be imagining!
I'm excited to join at this moment in Sitback's growth journey – and I'm looking forward to creating an even more positive impact for our clients and building Sitback's presence in the market. It's an enticing challenge!
Chris: Sitback has a unique approach when it comes to supporting and optimising websites for clients. What role do you see UX taking in this area when website maintenance is traditionally viewed as a 'bug fix' service?
Paul: At any given time, the vast majority of companies are focusing on either:
Running their existing business more effectively
Changing their business to serve the market better
The fact that Sitback has an offering that includes support and optimisation services, and even starts the client relationship there at times, means we are able to establish a culture of experimentation for our clients. This will allow companies to both optimise their core business whilst also exploring new adjacent offerings at the same time. The fact that we can do this at speed should provide our clients with enterprise agility – a key competitive advantage in a world that is changing faster than ever before.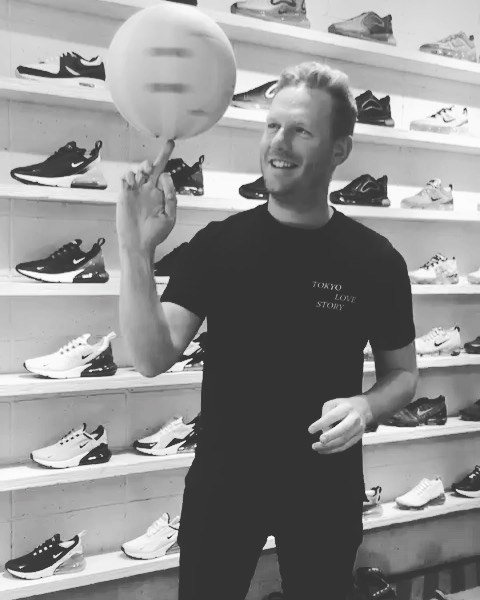 Chris: UX has sometimes historically been viewed as 'just playing with colours and fonts'. What level of importance do you put on research and testing?
Paul: The last few years have seen a shift in the conversation on design. Design isn't merely a stage of a project, it isn't there to just deliver on a pre-determined strategy and it certainly isn't just making things look pretty at the end of a process.
Design is now a key input to strategy, on where the company is moving to, what role the company plays in its customers' lives and how to unlock new value. Design is also a way to ensure the success of new products and services by finding the right balance between desirability for customers, business viability and technical feasibility.
All that being said, I still love designing beautiful, intuitive interfaces that delight customers at the right part of the design process – the importance of this shouldn't be underplayed. It's super important to differentiate from the competition and create an emotional connection with your audience.
Chris: Where do you see UX heading over the next 5-10 years? Will there be any paradigm shifts in the work that you're doing?
Paul: The obvious answer here is artificial intelligence (AI). As the good work being done on design systems becomes even more mature, AI will take over tactical design tasks going forward. I see this as an opportunity, not a threat – AI is already more effective at delivering personalised experiences at scale, and in real-time, than humans are so we should embrace this and focus on what makes humans unique – emotion.
Too many in the field of XD focus exclusively on removing pain from experiences – they remove obstacles, shorten customer journeys and try to make experiences so easy that users don't need to think. This is admirable and super important – but it's not everything.
There are new opportunities to go beyond and create gain in experience design, not just remove pain. Creating gain can be achieved in the form of:
Developing emotional connections with customers. Where possible companies should look to create designs that generate emotions that result in positive user experiences. In digital product design, this can come in the form of copywriting, imagery selection, animation and the overall design aesthetic, and can be tested via

bi-polar emotional response testing

. Creating an emotional connection with your target audience changes the experience from being purely functional (e.g. feature comparison, price, etc) to a differentiated experience which breeds more customer loyalty, share of wallet and growth.
Business model innovation. Experience-first companies such as Tesla, Google and Peloton are starting with experience and reimagining the established paradigms for doing business in their industries. This involves product upgrades delivered via software removing the need for customers to buy new hardware (Tesla and Google) and tapping into behavioural science techniques to effectively turn daily exercise into a social fitness video game (Peloton).
Moving beyond UI. We live in a world of integrated systems across digital and physical channels. This provides a bigger canvas for design to paint on to create a positive impact for customers and unlock new sources of value for companies. Anticipatory design (e.g. automated replenishment of products based on usage) and ecosystem design (providing users with integration points that allow new experiences to be created on top of yours) are examples of where the best experiences can sometimes be delivered with no UI design at all.
Chris: Alright, now on to the serious stuff. What would be your top 3 tracks for our office stereo and why?
Paul: From experience, what's on the office playlist can be very controversial – so I'll double down on that and be as eclectic/controversial as possible. After 2 years of lockdown at least you'll know when I'm back in the office!
Rage Against the Machine – Know Your Enemy (Spotify)
Souls of Mischief – 93' Til Infinity (Spotify)
Chris: Thanks for taking the time to talk with me today and for letting everyone peak through the window into your world. I look forward to seeing much more of you and Sitback's Experience Design team in the future!