Luna Park may be just for fun but their new website is serious business
Internationally renowned fun park proactively invests in their customer's online experience
Luna Park, the iconic Australian fun-park located in the world-famous Sydney Harbour, has today announced their renewed partnership with Sitback Solutions, to develop their next generation of websites; re-invigorating the Luna Park brand and providing an industry-leading experience, thoughtfully designed to be perfectly aligned with their customers' needs.
Luna Park originally engaged with Sitback five years ago and have been working together ever since. The Digital Agency initially built Luna Park's outgoing website and have been providing ongoing support and maintenance since it was launched. Over the past 12 months the team have been working to better understand their customers' interactions online. Through in-depth analysis of their visitor data, alongside User Testing sessions with Sitback's UX psychologists, Luna Park identified clear opportunities for improvement.
"We've seen website growth and sales improve significantly year-on-year, but we knew we could do better."
"Luna Park is booming" admits Brendan Biddell, Marketing Manager at Luna Park, "We've seen website growth and sales improve significantly year-on-year, but we knew we could do better."
"70% of our traffic is from mobile devices but we're not offering an optimal experience. We anticipate dwell times could be increased by 40% or more, just by having a smoother user journey. At the moment, it's very disjointed."
"The problem with many websites, is that we assume or tell people what they want, rather than asking what they want or observing how they actually use the website. Through the work we're undertaking now with Sitback, we can see that process, see what our customers are doing, enabling us to be proactive to their needs rather than reactive."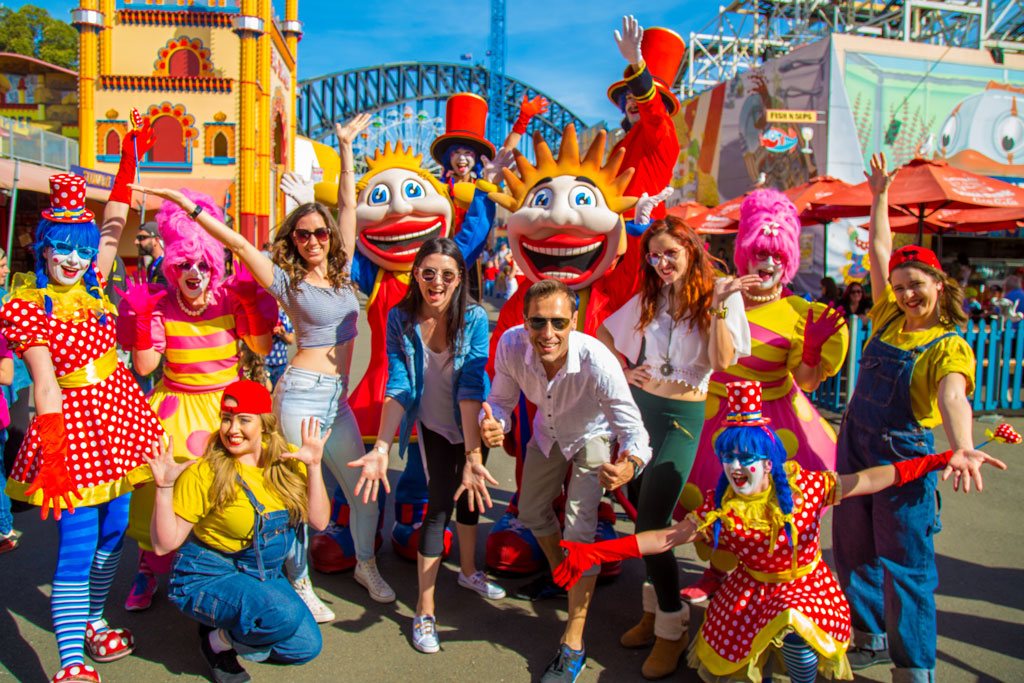 Objectives
Luna Park set themselves one clear objective for the new website: Transparency. It's vital to their ongoing success that they are able to see how visitors are interacting with the site, what content they find engaging, and to learn and grow with their customers so they can ensure they are constantly providing value.
When it came to deciding who to work with on the new website, for Biddell there was no question, "Luna Park has been partnered with Sitback for over five years now, and we've never had an issue. Everything has always been completed on time and to a high-standard and we knew we could trust them to deliver high-quality work without the risk. For us, they really are a safe pair of hands."
Chris McHugh, CEO of Sitback Solutions had this to say on the partnership, "Luna Park is an international icon and we are incredibly proud to be continuing our relationship with them. They are truly dedicated to the customer experience and we are extremely excited to help them bring their vision for Luna Park online to life."
The new website, which will see Luna Park's refreshed branding rolled out across their digital channels, will be built upon 'Presto!'; a customised version of the Drupal Content Management System (CMS) created by Sitback. Boasting accelerated development times and reduced administrative overheads, the result will be a fast and responsive website providing Luna Park with the flexibility to roll out new content quickly and easily, across all devices.
The new Luna Park website is expected to go live early 2018, in time for Luna Park's Easter Fun Fest.

About Luna Park
Luna Park Sydney is an entertainment precinct of many faces.
These days you're just as likely to visit this superbly restored fun-park to catch a concert at the Big Top, eat classy cuisine at The Deck or take in the million dollar views as you ride the Ferris Wheel, as folks have been doing since 1935.
Now, as then, Luna Park is just for fun. It's a people's park where you can throw a party for the kids, host your dream wedding or stage a gala for thousands in the state-of-the-art Crystal Palace.
Find out more: http://www.lunaparksydney.com
About Sitback Solutions
Sitback is a leading digital agency based in The Rocks, Sydney. We specialise in psychology based user experience design, development and support & optimisation; working closely with our clients to help them engage more effectively with their customers online. To achieve this, we employ:
A team of registered psychologists and HCI Specialists to apply a depth of research to our work and optimise the interface design to maximise the user experience on the website.
A cutting edge, specialist Drupal development team to build bespoke solutions tailored and optimised for a positive user experience.
A 24/7 support and optimisation team to ensure clients websites are available and continually optimised.
A digital delivery team to ensure effective delivery for all support and project related activities.
Over the last 11 years we have been fortunate to work with a broad range of top brands across all sectors including: Finance, Retail, Charity, Entertainment, Government, Education and Corporate.
Are you looking to start a new web project?
If you're interested in learning more about how Sitback Solutions can help you realise your business goals through an exceptional online experience, get in touch now – we'd love to hear form you!