Case study: DPIE Threatened Species remote workshops
If you read our previous article regarding our learnings from remote workshops, then you will know that Sitback has been running all of our stakeholder workshops online for the last year across a number of clients, one of which was The NSW Department of Planning, Industry and Environment (DPIE). Building on our last article, this time we will take a deep dive into the remote workshops we conducted with DPIE for their "Threatened Species" project, as well as our approach to running both the requirements gathering and co-design workshops.
Project background
Our native fauna and flora are unique to Australia, and ensuring that they are thriving, sustainable and resilient for NSW is key. Important information on all NSW threatened species, ecological communities and key threatening processes that sit on the Planning, Industry and Environment website needs to be clearly surfaced and shared with members of the public and subject matter experts with an interest in the conservation of NSW's biodiversity.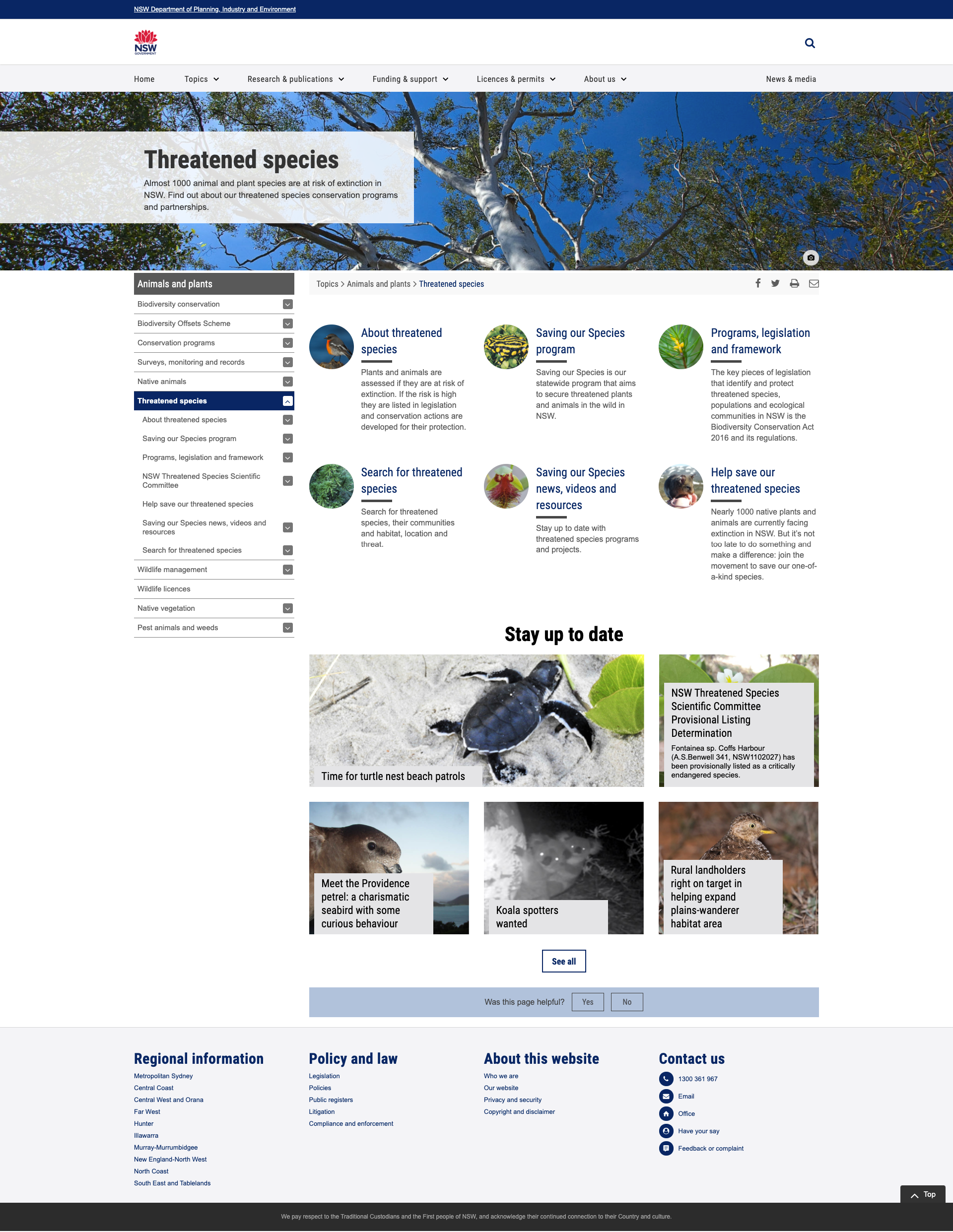 DPIE were looking to update the UX design of their Threatened Species Profile (TSP) pages within www.environment.nsw.gov.au. The TSPs within the EES website provide key information on all threatened species, ecological communities and key threatening processes.
These pages receive a high number of page views and traffic predominantly from search engines. DPIE wanted to focus on redesigning the TSP pages to be more contemporary, user-friendly and promote a stronger link between the TSP and EES programs. There is also a commitment to redesign the search tool and search results pages to ensure the site provides a contemporary and seamless user experience for both the general public and subject matter expert users.
To achieve this, Sitback engaged in a number of activities underpinned by the Design Thinking approach.
Empathise:
Stakeholder requirements gathering workshop
User hybrid interview and usability testing of the current site
Define:
High-level user personas and customer journeys
Research report identifying any key usability issues with current pages
Design:
Stakeholder co-design workshop
High-fidelity wireframes
Test:
Usability testing of new wireframes
Updates based on recommended changes
Remote workshops
We ran 2 remote workshops with the DPIE project team in the empathise and design stages. Both of these workshops were conducted online using Miro, but both with very different purposes and objectives.
Through using these remote workshops, the Sitback team were able to build a relationship with the DPIE project team, creating credibility and trust. Most importantly, they allowed us to utilise stakeholder expertise and subject matter knowledge so that the project outcomes were positioned for success.
We've made the Miro workshops that we conducted online with DPIE available if you would like to review them.
Workshop 1 – Stakeholder requirements gathering workshop
The first workshop we ran with project team members was to uncover goals and success measures for the project, identify specific business requirements for the key pages to redesign, define known issues with the pages, as well as understand hypotheses that stakeholders had around the user groups that primarily utilised the pages.
For this, Sitback conducted a 2-hour remote workshop with 7 stakeholders across the DPIE organisation with carefully selected activities that would enable us to capture rich insights to carry forward throughout the project. We created a board within Miro per activity, with instructions to ensure complete clarity in the task, as well as utilising Miro's timer functionality to provide participants with a clear cut off for each task.
Though Miro is a powerful tool when it comes to collaboration, for this workshop, we stuck to good old fashioned (virtual) post-it notes to capture feedback. This enabled participants to first jot down their thoughts, and then have a discussion around what they had written with the other stakeholders allowing strong collaboration.
Like all our workshops, the post-it notes capture half of the story, the discussions between team members after the exercise is where the information is really brought to life and we hear the full story. It also gives others the opportunity to input their own expertise and experience, and this is where having a note taker is really vital to the success of the workshop; as it ensures that no information is lost.
One key learning with this workshop, surprisingly, is that a remote workshop-style requirements-gathering activity may actually hinder the discussion. Let me explain …
Requirements gathering usually comes towards the start of an engagement where you are still trying to build rapport with everyone in the room, and really understand the problem at hand. Workshops are great for collaboration and capturing feedback, but nothing beats conversation – back and forth, asking questions – spending time delving into the information rather than within the workshop tool for setup and writing.
Where relevant, we have now taken to an interview methodology for requirements gathering so that we can talk openly with people in the room and put less focus on understanding how to use Miro.
Workshop 2 – Stakeholder co-design workshop
After our team had worked through both user and stakeholder research, we moved into the design phase. As part of this, we conducted a 2-hour co-design workshop in Miro with 6 project team members, again with tailored activities to understand the team's thoughts around how the pages could be optimised moving forwards.
Activities for this workshop included:
Empathy mapping
Sketching
So that stakeholders designed with the user in mind, empathy mapping was used to hone in on the insights as previously identified in the user research and usability testing. For this activity, we asked stakeholders to read over the personas created, and identify important issues or opportunities that the pages must address based on the user's needs, tasks and behaviours. Like our first requirements gathering workshop, we encouraged the discussion of ideas after the individual activity was complete to encourage collaboration within the team.
Following on from empathy mapping, we asked each team member to sketch out a new page design using pen and paper-based on what we know needed to be improved. Sketching can sometimes feel like a daunting task when you are staring at a blank page, and there can be nervousness if stakeholders feel that they are not 'creative' enough. However, we encourage stakeholders to capture their ideas in any way that they feel comfortable. This could be sketching, but also just bullet-pointed items. Keeping it simple and allowing for as much flexibility is the best way to ensure that you get the information that you need from participants.
The final stage after sketching was prioritisation through voting. At this stage, we asked each stakeholder to present their ideas to the rest of the group. Not only does this help everyone to discuss and build upon each other's ideas, but it also ensures that the facilitators clearly understand the ideas too, which is important for moving into the analysis. After each idea was presented, the team then used red dots to vote for ideas that they thought best addressed both the user and business requirements. This ensures that there is alignment in progressing ideas that have been prioritised.
Conclusion
The DPIE team was extremely happy with the way in which we conducted the workshops. But don't just take it from us …
"Sitback guided us through every stage of the UX design audit clearly and carefully. They used their expertise to identify the various needs of our stakeholders and worked closely with us to meet these requirements. Their communication and professionalism were exceptional throughout the process and, as a bonus, they were a delight to work with. We've had great feedback from other workshop attendees and thank Sitback for leading this project."

Emily Dufton, Senior Content Officer – Saving our Species,
NSW Department of Planning, Industry and Environment
We've made the Miro workshops that we conducted online with DPIE available if you would like to review them.
If you're looking for a head start on how to run your own remote workshops using Miro, then we've put together a set of free templates that you can use, along with heaps of handy tutorial videos.
Finally, if you have any questions or feedback based on your own experiences, or just need some help running workshops in general, we would love to hear from you! Get in touch with Sitback's experienced team for expert guidance.