Ultimate Google Adwords Display Ads Template for Illustrator (.ai)
We recently had a requirement to put together some advertising creative for Google Adwords display adverts. If you're familiar with this topic then you will likely know that in order to cater for the massive variation in website layouts, Google supports a lot of different ad sizes.
We started searching for an Adobe Illustrator template (vectors for the win!) online that would speed up the process of creating artwork at each of these different size. We downloaded a fair few, but found that most were lacking in some way. Most either hadn't been updated in a while and still included ad sizes that are no longer used, or they were missing some of the newer or regional sizes.

As a result, we decided to create our own Illustrator template, based on the current set of supported Google Adwords display ad sizes. And because we're fans of giving back to the community, we decided to put it online for free download so that you can get your job done faster.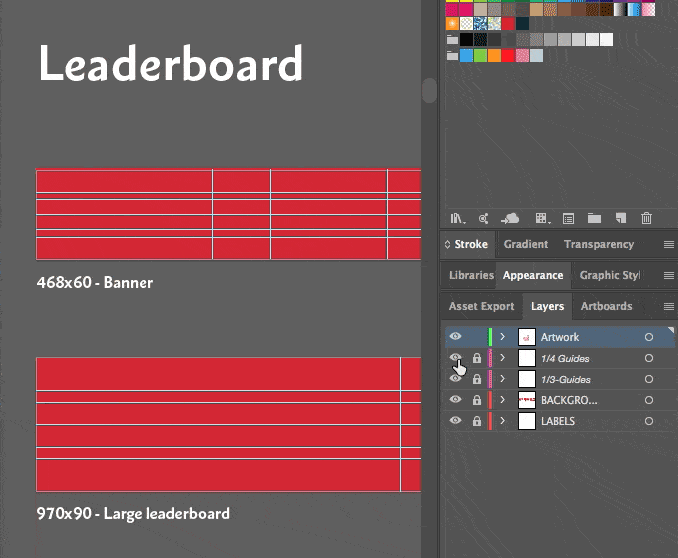 Why is this Sitback template better?
Up-to-date as of December 2017.
Includes all top performing, standard, mobile and regional image sizes.
Features optical guides for thirds and quarters for every artboard to help align your artwork.
Ready to use with Adobe Illustrator CC 2017.
There are no forms to fill out to download it!
So, what are you waiting for? Get stuck in!
As with all things internet, this will likely become out of date before too long, so we will endeavour to update the template as changes are announced. If you spot an update before we do, let us know.
What other resources would you find useful for your marketing or advertising efforts? Let us know and we can share our take on these in an upcoming post.
---
Looking for help with your Digital Strategy?
With experience spanning UX research, website design & development, support, analytics and optimisation, our Digital Delivery Team are here to connect with the right people at the right time within your organisation, to ensure success with your next digital project.