5 Key Considerations For Driving Customer Centricity In Government Digital Projects
Deliver exceptional user experiences by ensuring your digital services are simple, clear and fast.
Here at Sitback, we've worked with agencies on Human-Centred Design projects across all areas of Government, from DoE to ASIC, and one thing has become very clear. Departments who are truly focused on their customers are driven to deliver exceptional experiences. But simply wanting it isn't enough. Fortunately, there are a number of techniques and concepts that, when applied correctly, will ensure that the digital services you deliver are simple, clear and fast, resulting in reduced customer complaints, increased customer satisfaction and improved departmental efficiency.
The Digital Transformation Agency (DTA) has a comprehensive set of design guidelines covering everything from Content Strategy to team selection, and we thoroughly recommend you read them before you start a new project. However, it's pretty thick. So think of this article as a crash course in the highlights, based on the experience we've had at Sitback working on Government projects.
Here's an example of what people look like. Photo by Kaique Rocha from Pexels.
1. Put People at the Centre of Everything
Fundamental to any great service is the need to carry out research in order to develop a deep understanding of your customers and the context within which they interact with the service you provide. Leveraging a combination of Experience Design methodologies including documentation reviews, platform audits, stakeholder and user interviews, user research, user testing and heuristic evaluations will provide you with a clear overview of your customer requirements, enabling you to effectively design a solution that takes into account different user personas, but works for everybody: citizens, public servants or any other intermediaries who support end users to access the service.
Questions to ask yourself:
What are they trying to achieve?
How are people currently performing the task your service aims to help them do?
What data from real use can you draw upon to improve?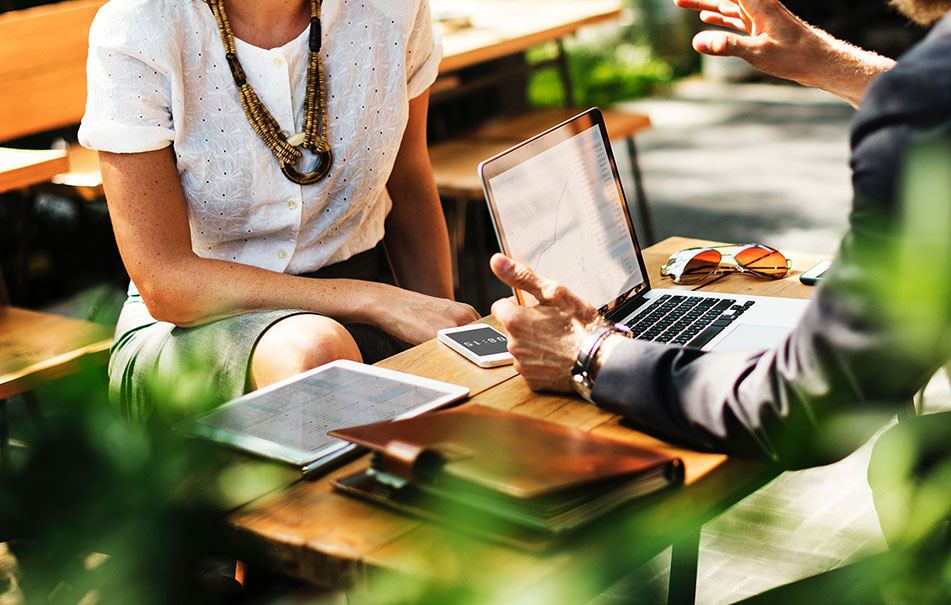 8:15 am business meeting and not a coffee cup in sight? Yeah, right. Photo by RawPixel.com from Pexels.
2. Build an Experienced Team
A sustainable, multidisciplinary team, led by an experienced product manager, is essential to the design, build, operation and iteration of a successful digital service. Open communication channels and a collaborative approach will yield far greater results than fragmented teams with little understanding of each other's responsibilities.
At Sitback, we employ our Engagement Methodology™, a proven approach providing an agile and flexible framework for delivery, whilst maintaining the ability for governance and escalation, clear communication, formal reporting and risk mitigation.
Questions to ask yourself:
Do you have the necessary mix of roles and competencies within your team?
Does the team understand the tools and systems required to build, host, operate and measure the solution?
Is your delivery team also focussed on the customer, and do they have the vision and guiding principles to align with the customer's needs?
Do you have the agility to make decisions and develop solutions quickly and iteratively, based on customer needs?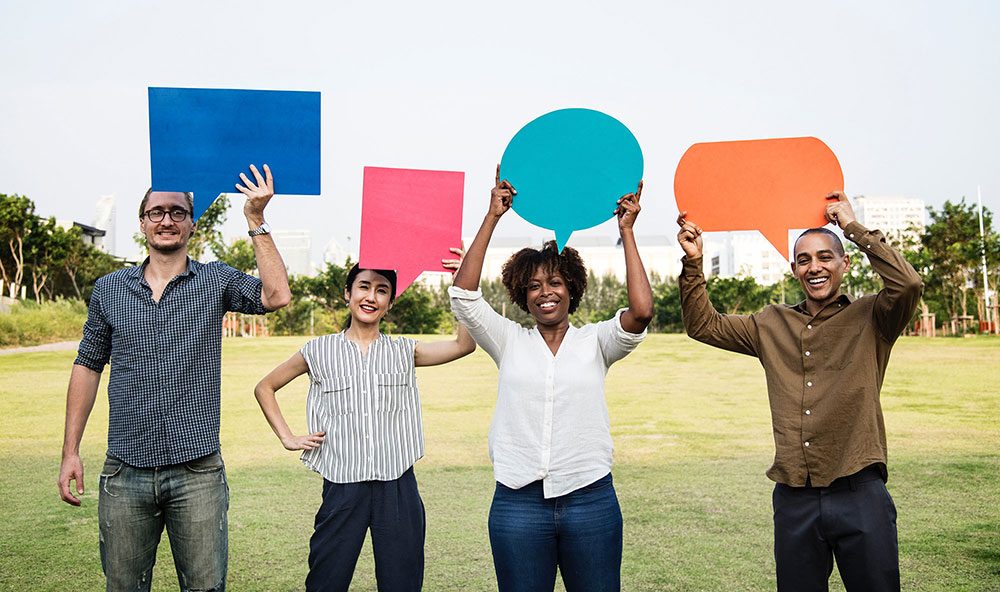 Obligatory stock photo of strangely happy people with cardboard cutouts by RaxPixel.com from Pexels.
3. Design for Everyone
For your service to be truly inclusive and useful for everyone, it should be built to be flexible and consistent no matter where or how it is used.
Employing responsive design techniques that follow common digital design patterns helps to ensure your solution works across different devices; saving time and money through code reuse, allowing you to concentrate on the unique things your service needs to do, and providing a consistent experience for your users, whether they are accessing your service through a desktop browser, their mobile phone, or even a voice assistant.
Make sure the service is accessible to everyone, regardless of ability or need for assistive technology like screen readers. Your content should be consistent, plain and in the language of your users. There are some great tools out there to help with making your copy easier to read, like The Hemingway App, and Readable.io. The benefit is that the result will be simpler, clearer and faster for all.
Questions to ask yourself:
Does the service work across all common browsers and devices as used by your customers?
Is your content clear and easy to understand?
Can the service be used by everyone that needs to use it?
Is your service WCAG 2.0 AA compliant?
Photo by RawPixel.com from Pexels.
4. Test, Monitor & Optimise
Efficient and reliable production cycles utilise separate development, testing and live environments for your platform. These should all be maintained to the same specification so that features work consistently and as expected across all three.
Don't wait until your service is live to find out what works and what doesn't, and don't just rely on the developers' quality assurance (QA) phase. Additional automated tests and user acceptance testing (UAT) should be performed to comprehensively appraise every part of the service during development, ensuring that your customers will be able to use the service as intended.
Define clear key performance indicators (KPIs) before building anything, and make sure you have the right tools in place to track and measure them once the service is live. If you don't know where to start, we recommend looking at: Net Promoter Score (NPS), or user satisfaction; number of new users; conversion ratio; and cost per transaction. Once these are in place you should then look on a more granular level, for example: task completion time; abandonment rate; and return on investment (ROI).
Questions to ask yourself:
Is the service bug free and does it work as intended?
Is there a clear process for making changes, optimising and adding new features in the future?
Have you defined at least four clear KPIs?
Do you have the correct tools and processes in place to track and report on your KPIs?
Forget the selfie. It's all about photos of you taking photos. Photo by Kaique Rocha from Pexels.
5. Keep In Mind The Big Picture
While driving customers to your digital solution can provide cost efficiencies, service enhancements, and often simply be more convenient for them, it is important to think more broadly and consider the offline experience of your users at the same time.
The transition between digital and non-digital should be as smooth as possible; whether a customer visits a service centre, calls a customer service representative, or visits via the web, the information and level of service they receive should be consistent and properly meet their needs.
Moving from one channel to the other should not only be possible, but also seamless and even encouraged when relevant and likely to improve the overall experience.
Questions to ask yourself:
Is the information provided through your digital service consistent with that of other channels?
Do you have a plan in place to drive people to the digital service via your other channels?
Do people have to repeat themselves when moving between channels?
Are you other channels useful or even necessary? Now is your chance to consolidate or phase out where possible.
Wrapping Up
Properly planning and launching a new or updated digital service is a large undertaking and there are many factors to consider; from the team you build to deliver the service, to the technology it is built on and the context it is used in. Key to keep in mind is to ensure your service is simple, clear and fast. Doing so will increase customer success rates, resulting in increased satisfaction, reduced complaints, and greater departmental efficiencies.
How do you provide customers with exceptional experiences? In short, to provide a truly useful service, you must put people at the centre of everything you do!
We've got loads more useful content to help you and your organisation succeed in the digital world; from User Experience best practices, to Web Development insights and business strategies. Subscribe to our Blog now and we'll send you a quick email each time we publish a new article.
Interested in exploring how we can help your organisation be more customer centric?
Our approach is based entirely around this concept: Human-Centred Design, from UX through to Software Development. If you'd like to find out more, then get in touch; we'd love to help you achieve your vision.
{{cta('416f3c7b-b77c-4d75-8a49-1d9236fa5592')}}